Here's the Deal
I'm a freelance writer based in Milwaukee, Wisconsin, but I like to tell people that my husband and I are moving to Spain. Not 100% sure he's on board, so while I try to convince him, I find as many ways as I can to get there myself. Luckily, some writing gigs and English immersions (ask me about diverbo.com or Suryalila Retreat Centre) have created a portal for my annual tapas fix.
Words have always been my jam - I got my first typewriter for Christmas in first grade, and I distinctly remember my dad telling 8 year old me, "You know, you're a really good writer." Now, granted, he told me this after he'd spent an hour trying to teach me 13 minus 6 and other tough math problems…but still, those words stuck. I realized writing was something that came pretty naturally to me and I actually looked forward to things like reports and essay questions. (Yes, I was THAT annoying kid.)
Over the years, I've had a few different jobs - I started my career as a TV writer and producer of real estate programs. Next stop was middle school Spanish, which I taught until I decided being in a room with thirty-plus 7th graders was more of a prison sentence than a job. A wonderful solution came in the form of teaching ESL. Over the years I've worked with children and adults, in both the US and Spain. This summer, I led an English Immersion and Wellness Retreat at a Yoga Retreat in Southern Spain. (I'll be doing another one next summer!)
No matter what my day job has been, it's always included writing. I've written for a variety of clients - charter schools, travel websites, companies in Spain, LPGA golf blogs and running websites, to name a few. I created an inspirational running website, imrunnerchica.com, which led to articles for Runners World Online, This Mother Can Run, and the Milwaukee Journal Sentinel. My book, The Great Search was translated into Spanish (La Gran Busqueda) which was sold in Spain.
An article about Golfing with my Dad sparked a series of articles for the LPGA Girls Golf blog, and I now write for the LPGA Women's Network, offering inspirational advice on golf and life.
When I take on a project, it pretty much consumes me. I'm always thinking of how to be crafty, clever, and succinct in my messaging. This means I have "AHA" moments in my sleep. I've been known to jump off my treadmill at the gym to jot down an idea. There's no power down button in the "ideas" section of my brain.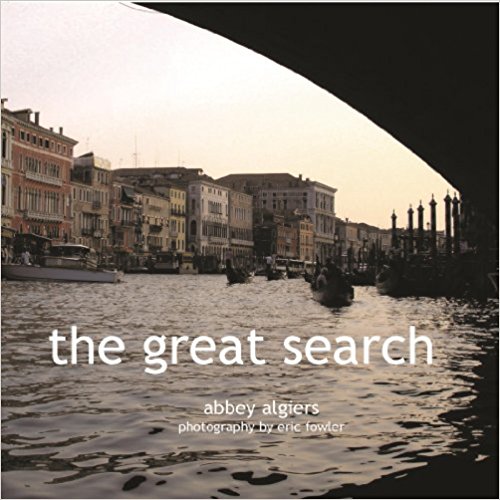 Do you have a friend who's searching for "the one?" Or, are you perhaps searching? If so consider my book, the great search. What happens when a woman declares she is on an all out search to find "the one?" Many times nothing, except days, months, even years of frenetic conquests that result in dates and dinners, but nothing lasting. Using photos taken by my husband, Eric Fowler, the great search takes the reader on a journey of love and discovery. This short story offers a new, refreshing solution for finding happiness "no matter what."